General Overview:
The goal of my senior project is to showcase the skills and abilities I learned at the University of Tampa while pursuing a degree in Digital Arts with a minor in Art. I believe my strength is in my ability to be well rounded and produce good work in all aspects of digital arts.  I chose a project that would show future employers that I am multifaceted and can take a project from the concept phase to a final production and that I am not only creative, but analytical as well. I also want to provide evidence that I am able to see the big picture, but can be detail oriented. I decided to incorporate my passion for cats into the project. I've always loved cats, and I consider myself a cat activist. I participated in raising money for cats and fostering multiple sets of kittens, as well as saving various stray cats.  In my professional life, I aspire to be a designer of extraordinary spaces. It would be amazing if I could integrate my personal passion with my future career goals. I have not yet determined what that will be, but at least in the short term I can work with my personal passion and my passion for design to create a new product and service.

For my project, I will create a mock business for cat furniture and custom cat room design. Cat furniture is already on the market, however, current products tend to lack essential important traits.  Cat furniture is often an awkward fit in a room or too brightly colored. It rarely ever blends with the aesthetics of a home or feels like a cohesive part of the environment. The cat furniture industry is about to change with my business. I will create custom designed spaces that are classy and elegant. I will also create classy furniture pieces that will be sold individually and will blend seamlessly with any decor but will be fully functional for the cats.  Some of the functionality will be scratching areas, tunnels, play elements, and comfy places to sleep. The goal is that by creating an aesthetically pleasing and fully functional cat environment, I believe I can make both humans and their furry companions happier!
Scope and Audience:
My senior project is geared toward cat owners who want to make their cats happier without sacrificing their home environment. Clients will range from people who simply want to buy one or two cat friendly, classy pieces, to clients who want their whole house completely designed and remodeled to accommodate their furry companion.
Detailed Description:
My project will include researching the current market of cat furniture, as well as researching high end home designs. I will then interview a real client (my crazy cat lady aunt who is building a new cat shelter home). Next, I will begin sketching concepts for her cat space which will include furniture and decor. I will 3D model the cat space  and texture and render it. I will create a brand and logo for my company as well as advertising materials using Photoshop and illustrator to promote my business.  I will then prepare a presentation to showcase my work.
Schedule: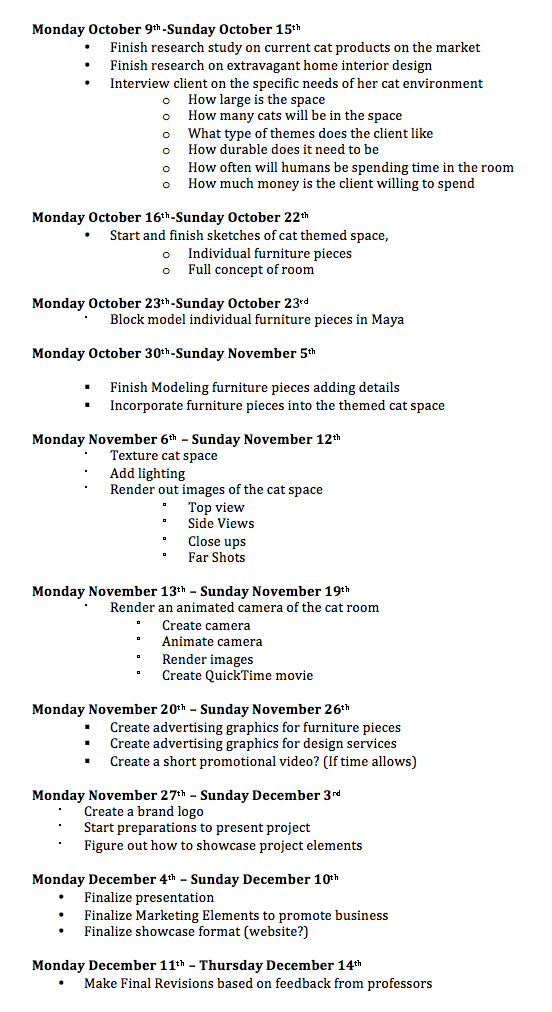 Client Interview Notes:
Size of space:
The space is a one room, 13ft x 18ft foster space, with a five-foot window on the west wall and a ten-foot window on the north wall. The option for an outdoor cat cage can be adapted later in the construction plan.
Solutions: I will design the room to the specified dimensions leaving a cat-sized outlet for the future outdoor area. The goal is to extenuate the windows to give the cats easy access to outdoor views. I will be creating floor plans of  traditional furniture and then figure out how to use the furniture layout to make functional pieces for the cats.
Number of cats in the space:
The space will typically hold three cats, however depending on necessity and season it could hold 1 to 6 cats. Sometimes she takes on special need cats that are blind or impaired in other ways, so the specific needs of these cats need to be considered as well.
Solutions:
I will include a resting space or bed area for each possible cat as well as two litter boxes in the room. By utilizing wall space and potentially even ceiling space, the space will hold the volume of cats more easily.
Clients preferred style:
The client prefers simple clean lines and modern vibe, however she is appreciative of standout pieces that " pop" with splashes of bold color. She doesn't want things like cat food, litter and bowls visible to the naked eye.
Solutions:
I will research modern furniture and try to figure out how the style can be functional and durable for a cat to play on. I am excited to create a few eye-catching pieces and create a functional piece of cat art for a wall or corner.
Is durability important?
Durability is important to the client because with the amount of cats coming in and out of, the current cat furniture she uses tends to show substantial wear in three to six months.

Solutions: 
I will be using a number of strategies to make the environment more durable than a typical cat space. I will use mostly quality plastics and wood for the furniture. The couch fabric will be replaceable and water proof. Any scratching areas will have removable pieces that can be replaced without having to replace the whole furniture piece.
How much time humans spend in space and what will they be doing:
It's important to include comfortable places for people to sit. The client likes to spend her down time enjoying the cats and socializing them. There are also many potential adopters that come in and out of the space and spend time in the room looking for the perfect feline match to take home with them.

Solutions:
The cat room will look like a living room with a small bar area. There will be a full couch as well as well as a TV area, although the cats interacting with the unique environment is likely to be the main attraction.  
Needs to make cleaning easier:
Cat fur is challenging when there are multiple cats. The client spends a lot of time vacuuming rugs to keep them fur free.
Solutions:
I will add a hidden air filter to the room to help illuminate hair. I will also do wood looking tile flooring. I will add a small rug to make sure the room is cozy, but leave most of the tile exposed for easy cleaning. I will also add a bar that includes a sink which will create a convenient and easy place to wash cat dishes.

Furniture List:
1 couch
1 chair
1 large coffee table 
1 or 2 small side tables
1 TV stand
Under the window furniture piece
Bar 
2 bar stools
1 Litter box cover up
Climbable wall decor
Preliminary Research on Cat Furniture:
Cat Tree
Pros: Easy to construct, no installation, great for scratching, many different comfortable places for cats to play and sleep.
Cons: Tacky, lack stability, awkward fit in space, doesn't match the decor
Themed Cat Tree
Pros: works better with the decor, take up less space
Cons: lack the variety of play and rest options of the regular condos
Themed Cat Bed
Pros: eye catching, well decorated, comfortable
Cons: has no other function in the space other than to be a decorated cat bed. Takes up space.

Play Structures
Pros: much more appealing to the eye
Cons: still awkward to fit in spaces, only function is  for cat play, no storage, appears to lack comfort
Wall Shelves
Pros: adding vertical elements adds to available space for cats
Cons: shelving that sticks below head height can be dangerous, individual wall elements tend to lack cohesiveness, possibility cats could fall of high shelves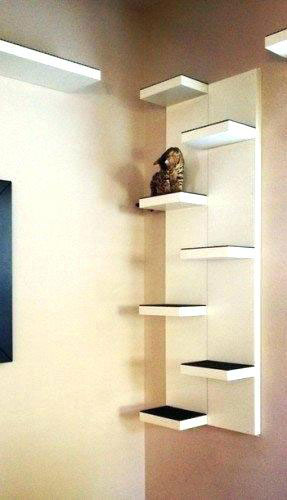 Wall Shelves Simple
Pros: much cleaner lines, looks far more like regular shelves than cat furniture
Cons: lacks the level of comfort of typical cat shelves
Vertical Climbing Structures
Pros: modern looks, sleek enough to fit in many spaces, has scratching elements and sleeping spaces, durable
Cons: no other uses other than for cat

Cat Stairs
Pros: Tons of storage, durable
Cons: breaks up the room, a relatively large structure more beneficial for storage that functional for cat play
Table
Pros: unique, modern, functional
Cons: Sharp edges could be dangerous especially if the cat tries to jump directly into the holes
Cat Art Piece
Pros: eye catching, unique
Cons: takes up too much floor space and has no function, wall art would be a better solution
Cat Couch
Pros:functions as a couch and cat resting place 
Cons: material lacks durability and would likely provoke cats to scratch it, multi-directional couches, although eye catching, do not function particularly well for watching TV or having conversations.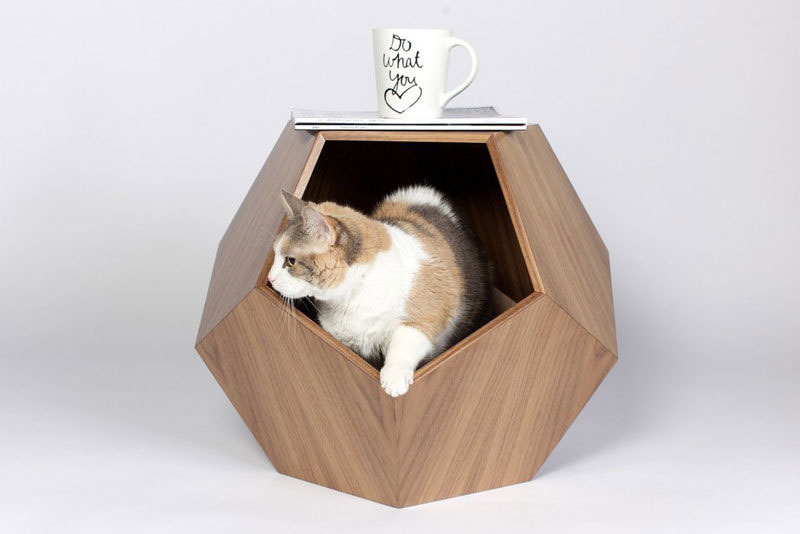 Cat bed coffee table
Pros: modern design, functions as coffee table and cat bed, takes up minimal space, durable material  
Cons: potential for cat movement to cause drinks to spill, needs to be heavily weighted at base
Cat Furniture Over-all Evaluation:
By analyzing the general trends of the above researched cat furniture, I have concluded on aspects I want to pursue and  potential issues I want to avoid. It's clear that functionality is a major concern. My pieces, with the exception of maybe wall pieces, will function as both furniture and cat areas. The pieces will match the home decor. I need to be careful that my modern, minimalists theme doesn't cause me to design pieces that lack variety for the cats. I also have to make sure that while the cats interact with the furniture, then don't interact negatively with the human living space (ex. Spilling over a coffee cup.) I will design storage areas into the furniture not just cat spaces. I constantly need to assess the safety of the pieces for both cats and humans, including making sure humans won't run into shelves and making sure there are no sharp corners. The pieces need to be designed in a way where the cats are accessible to the owner and can be located at all times.
Modern Furniture Inspiration
Modern clean lines, would need to be modified so cats can move from one piece to another.  The addition of a cat friendly, non slip fabric to the top of the surfaces is necessary. Add ability for cats to access the inside of the boxes.
Would modify the spaces to be larger to fit a cat and close off some of the pieces to be used as human storage. I would also consider adding a backing or siding so there is a less likelihood that the cat would fall off.
I like this as a general concept, but it will need to be completely rethought to accommodate a cat's size.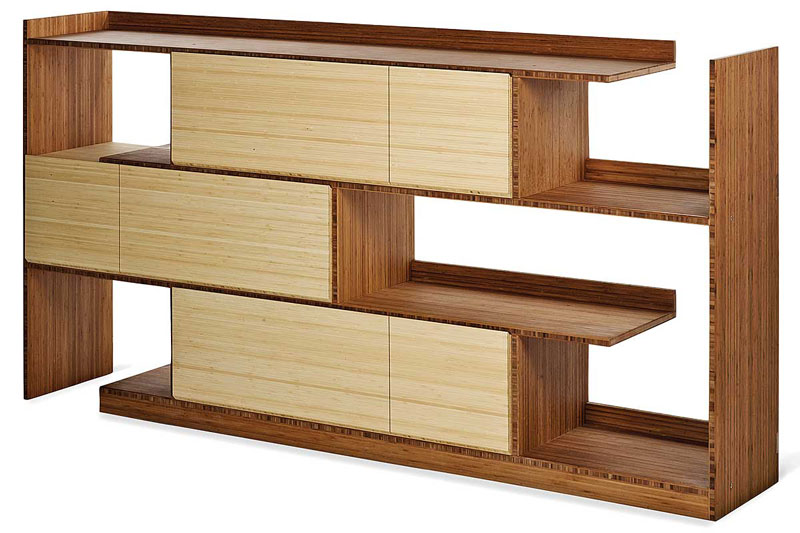 I love this piece because it has spaces for the cats, while still allowing for plenty of storage and remaining minimal.
Although simple I think this chair would be a great piece, it almost works as a cat piece as is. The challenge with this piece is figuring out how to make it original. I also think the cat could attack the human's back.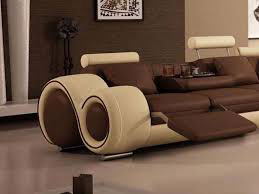 I think this couch is horribly ugly and not very clean, however, I think that these loops at the end of the couch could be redesigned into a good cat area.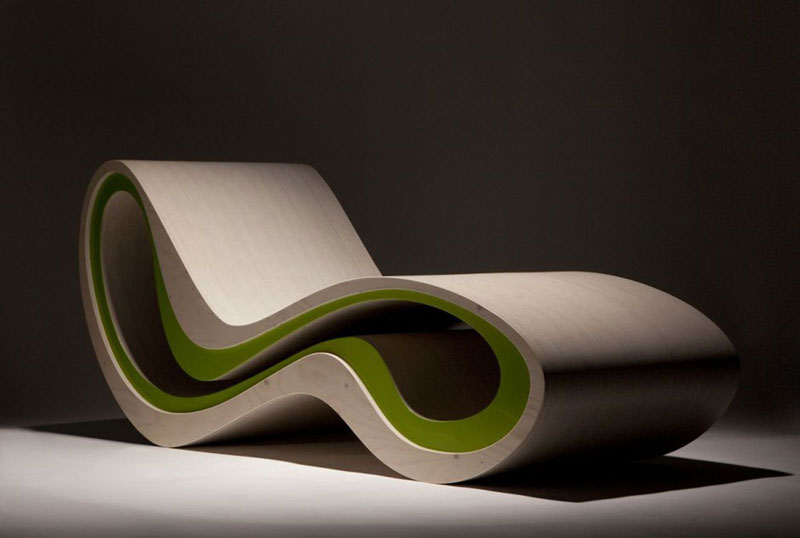 Open holes leave great places for cats to play and sleep, however, I think a piece like this takes up too much space for a chair.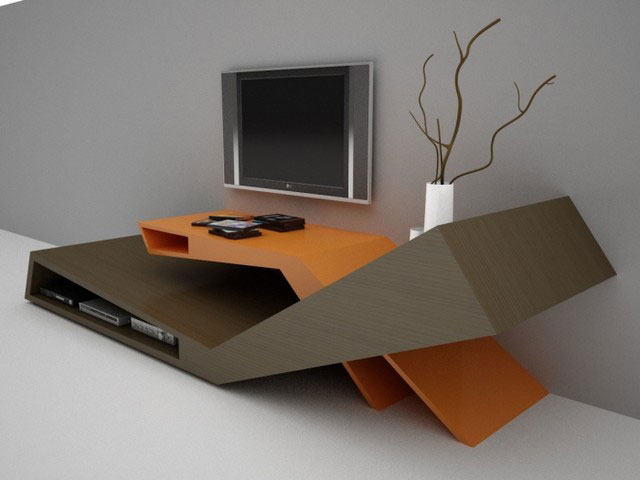 Eye catching piece, but lacks storage space and takes up too much room. I could picture this being more successful in a slimmer version.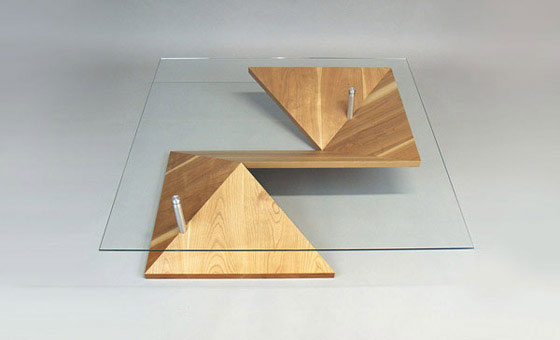 The sharp edges concern me, however I like the opposite facing pieces of wood pyramids, for a cat piece a full pyramid with a hole in it might work better
These are too simple to be effective pieces but I think they could inspire something that would work well. As just furniture pieces I think they are beautiful. I could potentially do a similar design with a cat wheel at the center.